Leading RPOs have adopted programmatic ad buying strategies to help balance the pressure of delivering 100% success to their clients. With programmatic technology, RPOs are able to achieve even greater spend efficiency through the real-time management of ads within the jobs marketplace.
Download the ebook to learn and understand the building blocks of rolling out a programmatic strategy that include:
Steps for Planning the Roll-Out
How you Go-To-Market with Programmatic
Structuring your Team to Support Programmatic Technology
The Main Benefits of Adding a Programmatic Offering to your Business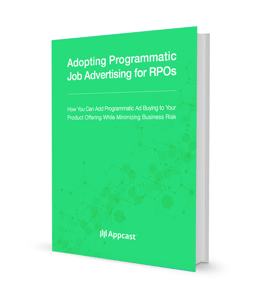 As the leader in programmatic job advertising technology, Appcast has helped the top RPOs in the United States configure their businesses for future growth by adding programmatic ad buying into their existing process.